Since early 2018 IRCC has been using artificial intelligence to aid in processing of Temporary Residence Visa (Visitor Visa). I was curious to learn more about how this is working and after an access to information request, and some discussion with IRCC I have put together a snap shot. I will give thanks to IRCC who was quite facilitation in discussing this. 
IRCC is currently running a model where on line TRV applications from India and China are going through AI processing. Also, more recently paper filed applications in India are going through this processing too
Decisions are not being made by the software, but in the case of straightforward approvals, they are being recommended to an "Officer of Record" for approval pending review of admissibility ( criminality, medical, security etc)
The AI system is not making recommendations on applications beyond easy approvals. The system is grouping applications into the following tiers: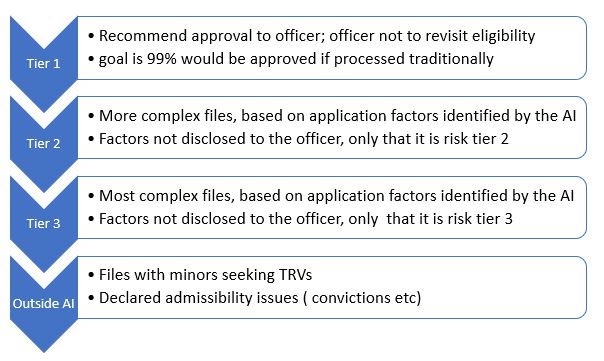 The factors that the machine learner identify to sort between groups 1 , 2 and 3 are a closely guarded secret.  So close guarded in fact that officers are not aware of how these determinations are made.
In my next post I will dissect some statistics on these groups, approval rates and some concerns on this method.